Tropical Storm Nida couldn't dampen the celebrations at the 42nd Asia-Pacific Advanced Network (APAN 42) meeting held in Hong Kong from 31 July to 5 August 2016.
More than 350 people from 28 economies attended the 6-day event, which marked the 20th anniversary of APAN. Among the celebrations, the meeting was again full of fantastic tutorials, workshops, presentations and demonstrations covering advanced network technologies and applications.
Over the past 20 years, many people have contributed their energy, wisdom and friendship to help build a large and enduring partnership and community. APAN founders Prof. Kilnam Chon, Prof. Shigeki Goto, and Prof. Tan Tin Wee as well as former APAN Chairs Prof. Jianping Wu, Prof. Dae Young Kim, and Prof. Sureswaran Ramadass were among the distinguished guests recognized at the Celebrations Plenary for their service.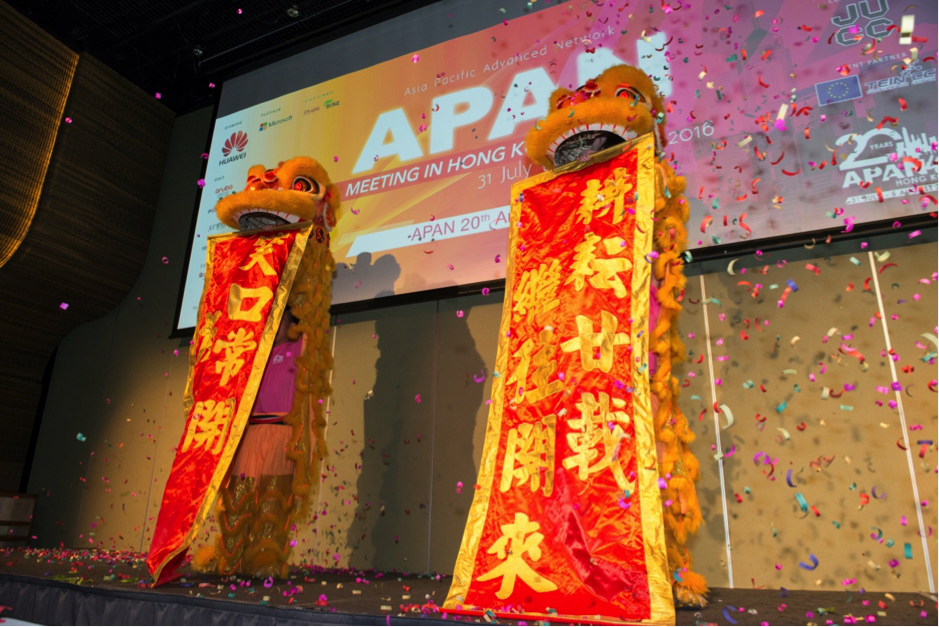 Dr Simon Lin, APAN's current Chair, expressed his appreciation to the founding fathers, the National Research and Education Networks (NRENs), and the devoted staff of the APAN Secretariat. "Their countless efforts have brought us the access to high-performance bandwidth for the Asia Pacific research and education community over the past 20 years. APAN facilitates alliances among NRENs, educational institutions, and regional/ national entities. It not only focuses on the state-of-the-art technologies, but also the progress of emerging user community activities in the Asia Pacific. Such unique features make APAN one of the most significant international consortia in the Asia Pacific region."
Although the Plenary was the highlight of the meeting, many attendees won't forget the typhoon warnings for Tropical Storm Nida on the second and third days of the event. Contingency arrangements, including a compressed program and rescheduled plenaries, meant that the meeting was able to move on without too much distraction.
Thanks must go to the APAN Program Committee and our host, the Joint Universities Computer Centre (JUCC) – a cooperative effort of the Computing/Information Technology Services Centres of the eight government-funded tertiary institutions in Hong Kong – and the staff of the Centennial Campus of The University of Hong Kong, where the meeting took place.
It was a pleasurable experience hosting APAN 42 and we hope all participants enjoyed their stay in Hong Kong. We look forward to meeting them again at APAN 43, which is to be held in India.
---
The views expressed by the authors of this blog are their own and do not necessarily reflect the views of APNIC. Please note a Code of Conduct applies to this blog.