From the first session of the Australian Network Operators' Group meeting you realised that we were there to hear – and debate – the most up to date and pointy end of the issues facing the Australian internet engineering community.
There are some things in the program each year that never change – the state of IPv4 address consumption, an overview of the IETF, someone's big network (often AARNet), useful approaches to network monitoring and automation (this year it was Facebook), and the latest large scale internet security issue.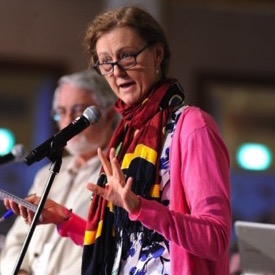 Then you get a few other things like the latest big technical change proposed for the internet (rolling the root DNSSEC cryptographic key), useful overviews of technology trying to make it into mainstream deployment (software defined networking, SDN) and some useful tools from Brocade's SDN Controller to try.
These topics are all essential, but the best reason to go is for the corridor discussion because that's where you hear what's really working and not working, and catch up with a few good mates.
Final days of Ipv4
Elly Tawhei, APNIC's Senior Internet Resource Analyst, painted a clear picture in the first session that we are in the final days of IPv4 – she was not reporting on forecasts for depletion, but on current trends and policies for IP address trading.
A quick check during the session of Geoff Huston's latest piece on IPv4 address exhaustion shows we're not just scraping the bottom of the barrel, but moving into desperate times. Policies for moving address blocks from the different regional address registries were discussed and you could feel the tension rise in the room as people realized that this was an issue they had to get on top of.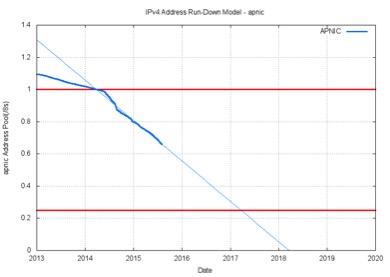 What do ISPs have to do to comply with data retention legislation?
The highlight of the whole event had to be Internet Australia's President, George Fong, and Vice President, Paul Brooks, convincing the Attorney General's department representatives to face Australia's ISP community and explain what ISPs really have to do to comply with the new data retention legislation.
The presentation covered the output of Internet Australia's ISP special interest group in developing the technical specification and guidelines for implementation. While tensions were certainly high in the room, and there are clearly a number of outstanding and difficult issues (carrier grade NAT and encryption), it's good to see some technical competence in the whole activity. Despite that, ISPs were urged to review things with their lawyers to ensure compliance.
DDoS attacks in the home
The extent to which home computer networks are vulnerable was very much brought into focus with Roland Dobbins from Arbor Networks talking about the ways distributed denial of service attacks are now being reflected and amplified by the array of connected devices in the home. Once again, the issue of home gateways failing basic security came up, but the fact that this is now being used to fuel extortion attempts of our financial institutions shows just how serious it is.
Roland's advice appears in his presentation, or you can cut to the copy in my twitter stream. However unless this is coupled with improved security in both domestic appliances for home network usage and what ISPs ship their customers to connect to the Internet this can only get worse.
Pacific broadband infrastructure
There were a couple of really interesting talks on regional infrastructure. A system mapping New Zealand's broadband infrastructure shows that thanks to New Zealand's version of the National Broadband Network, the average NZ household has access to higher bandwidth rates, and is on average consuming higher quantities (and growing) than an average Australian household.
Jon Brewer's session on the state of infrastructure and broadband take up across the Pacific was compelling as he integrated an economic analysis with connectivity and highlighted the absurd network topology that has grown.
It's no wonder that last week we heard Pacific Islanders screaming about the very real cost of the 'free' Windows 10 update in bandwidth and quota hits. Continuing work to install internet exchanges is transforming access but the real difference comes when content distribution systems are coupled with it as this means government and other important institutions join.
Green data centres
The issue of climate change and green data centres was discussed and Equinix went through some great initiatives from energy optimisation techniques to interesting heat exchange mechanisms (underground) and even growing grass on the roof to lower inbound heat.
Considering Greenpeace reported that Cloud Computing was the sixth highest energy consumer in 2011 ahead of Germany's overall consumption, these efforts have to be applauded. Unfortunately, the biggest contributor to energy use in data centres is old, inefficient computers. One can only wonder how we'll balance the electronic garbage problem against the energy consumption problem and still keep turning heat into enough packets.
Summing up
Overall, the event was well run, with only one community service announcement needed to remind attendees to share the conference bandwidth nicely; the food was good and Google's plentiful freebies fun.
I admit I was saddened that it seemed even fewer women were there this year (all still brilliant) than I remembered, but my bigger disappointment was one of the vendors telling me my VPLS network design from a few years ago had reached its scaling limitations and was on its way out. I might have to figure out SDN after all.
Narelle Clark BAppSc MEng is Deputy CEO of the Australian Communications Consumer Action Network (ACCAN), Immediate Past President of the Internet Society of Australia (now Internet Australia) and sits on the Internet Society global board of trustees. In her spare time she works on the IANA transition and has built one or two networks over the years.
---
The views expressed by the authors of this blog are their own and do not necessarily reflect the views of APNIC. Please note a Code of Conduct applies to this blog.