Late December may be holiday time for some, but for a few dedicated network engineers in Kathmandu, Nepal, 25 to 27 December 2014 was a chance to learn at an ISOC Nepal Chapter and Internet Exchange Nepal (NPIX) workshop.
Over thirty participants from ISPs, Telcos, ISOC members, Government departments and universities spent three days intensively learning  IPv6 design and deployment.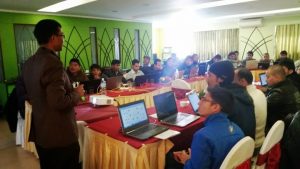 APNIC happily supported the workshop with free usage of our IPv6 Lab, which gives participants hands-on experience building full IPv6 core, edge, and access networks. The same topology allows for the configuration of an ISP with multiple operating regions across the economy. The IPv6 Lab supports 4-Byte AS numbers and provides an environment for other test scenarios.
APNIC training resources (Lab and materials) are open to APNIC community to be used for any non-commercial purpose. Feel free to contact us for more information about APNIC Training support.
---
The views expressed by the authors of this blog are their own and do not necessarily reflect the views of APNIC. Please note a Code of Conduct applies to this blog.