Network Operator Groups (NOGs) play a crucial role in connecting and developing the skills of network operators throughout the Asia Pacific, and one of the key ways they do this is through regular meetings.
June and July are big months for the network operator community in the Asia Pacific and around the world. There are eight big NOG meetings taking place, so make sure you don't miss out! First up are bdNOG 13, NANOG 82 and PacNOG 28.
Bangladesh: bdNOG 13, 10-12 June
North America: NANOG 82, 14-16 June
Pacific: PacNOG 28, 28 June-3 July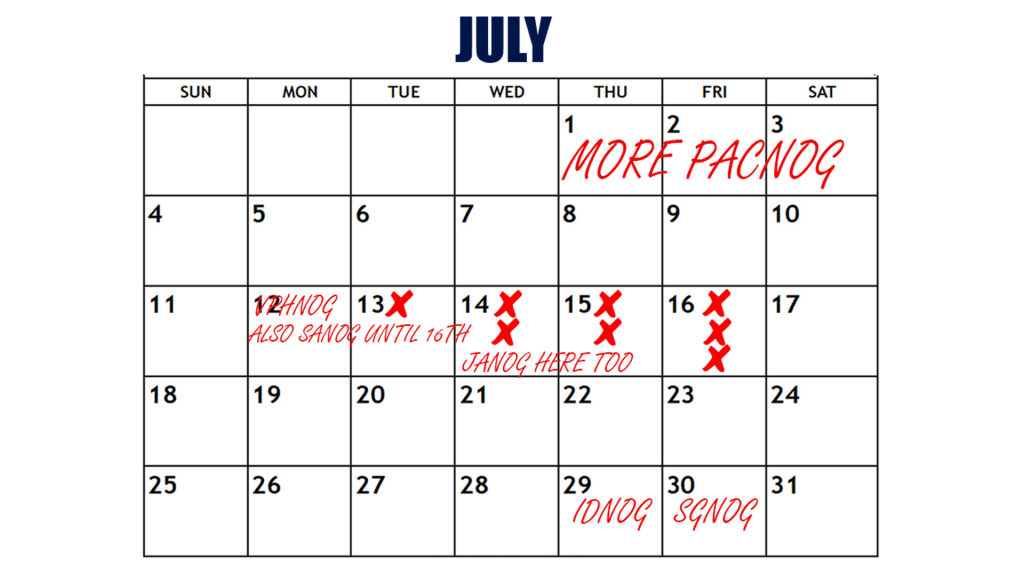 July is even more packed with events, starting with the last few days of PACNOG 28 right at the start of the month. It's followed by vPhNOG 2.0, SANOG 37 and JANOG 48 all on overlapping days, and IDNOG 7 and SGNOG 8 wrapping up the month.
Philippines: vPhNOG 2.0, 12-16 July
South Asia: SANOG 37, 12-16 July
Japan: JANOG 48, 14-16 July
Indonesia: IDNOG 7, 29 July
Singapore: SGNOG 8, 30 July
Check out the APNIC website for more on NOGs and their activities in the Asia Pacific region.
---
The views expressed by the authors of this blog are their own and do not necessarily reflect the views of APNIC. Please note a Code of Conduct applies to this blog.