"No hay dos sin tres" is a popular expression in Spanish which, according to a Quora discussion, is the equivalent to "all good things come in threes". After two successful APNIC Hackathons ([1][2]) we can confidently say APNIC Hackathons are a "good thing", so there had to be a third one.
Despite the travel challenges we are facing these days because of Novel COVID-19, quite a few participants made their way to Melbourne, the city hosting the APRICOT 2020 conference this year. Just a few minutes after 7 pm on Sunday, 16 February, we kicked off the 3rd APNIC Hackathon with a round of introductions, with people sharing a bit about their background and interests, as well as a fun fact about themselves to follow what is now a kind of tradition.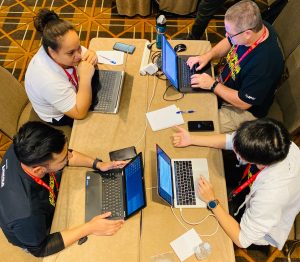 We then shared some key ideas on the nature of 'hackathons', or 'hacking marathons', where people work together to create a 'quick and dirty' solution to a problem. The emphasis is on teamwork and cooperation, rather than on competition. The main outcome we hope participants take home is the learning experience, the exchange of knowledge and the social interactions with people from diverse backgrounds, knowledge levels, skills, and so forth, which will lead to unexpected combinations, creative ideas, and genius solutions!
"The emphasis is on teamwork and cooperation, rather than on competition."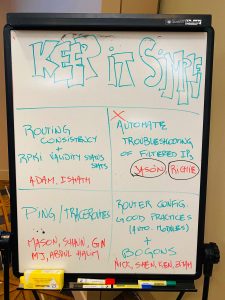 We then focused on 'network tools', the theme for this particular hackathon, sharing with the participants some ideas for projects, allowing for discussions and time for reflection on what projects participants would like to work on. We did a first round of expressions of interest, which resulted in a messy whiteboard with different combinations of projects and participants' names, with some pairs of projects merging into one, and the best phrase to summarize the hackathon credo: KIS = Keep it Simple!
After checking with participants whether we had a good understanding of who wanted to work on what and making sure we were all happy, we produced a cleaner version of the allocation of the projects, gave participants some time to discuss ideas, handed out t-shirts and called it a day.
Today, Monday, 17 February, we have a cool group of people in a meeting room divided into three teams working on the following projects:
Routing consistency and RPKI validity status stats
Ping and traceroutes from different locations
Automation modules for router configuration good practices and bogons
Stay tuned for an update on the outcomes from this 3rd edition of APNIC Hackathons!
---
The views expressed by the authors of this blog are their own and do not necessarily reflect the views of APNIC. Please note a Code of Conduct applies to this blog.