Policy SIG participants at APNIC 46.
The Open Policy Meeting (OPM) at APNIC 46 in Noumea, New Caledonia reached consensus on prop-125: Validation of "abuse-mailbox" and other IRT emails. The remaining proposals were sent back to the mailing list for further community discussion.
prop-125 has now been returned to the Policy SIG mailing list for the final Comment Period before implementation. Community members can still make sure their opinions are heard by subscribing to the mailing list and responding to the emails which are available in the archive.
During the discussion of prop-125, the community agreed with the intention of the proposed solution and asked the authors to simplify the proposed text so everyone can understand it. The APNIC Secretariat will work with the authors to suggest a simplified version once it completes all the steps of the Policy Development Process (PDP). The Secretariat also advised the community that this proposal will take  six months to implement instead of usual three months, as it requires changes to registration systems. This proposal reached consensus at both the Policy SIG and the APNIC Member Meeting (AMM).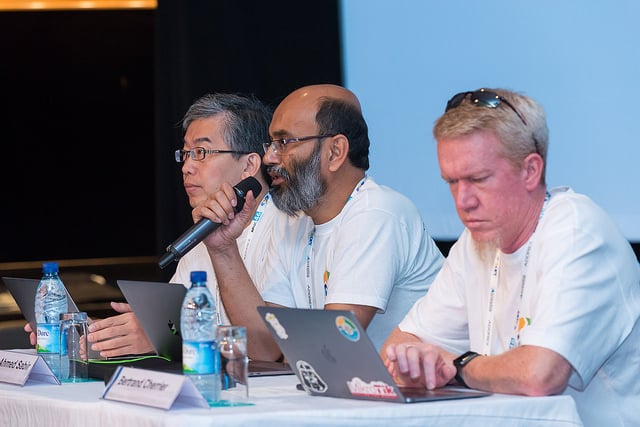 Policy SIG Chairs at APNIC 46: (L-R): Ching-Heng Ku, Sumon Ahmed Sabir, and Bertrand Cherrier.
According to the PDP, prop-125 will be forwarded to the Executive Council (EC) if the consensus holds once the Comment Period ends on Tuesday, 16 October 2018 at 23:59 (UTC +10). Once endorsed by the EC, the proposal will then be implemented by the Secretariat.
Three proposals returned to authors
The three proposals that didn't reach consensus at APNIC 46 were returned to the authors by the Chairs of the Policy SIG. The proposals are still active and may still be discussed on the mailing list, with the authors having the ability to modify the proposals to accommodate the feedback received during the first stages of the PDP. The proposals are:
Presentations and transcripts are available on the APNIC 46 website for further reference.
---
The views expressed by the authors of this blog are their own and do not necessarily reflect the views of APNIC. Please note a Code of Conduct applies to this blog.